My birthday is less than a month away, so I've been making a wish list of bookish things (hint to hubby). Want to surprise the book nerd in your life? Wrap up one of these gifts for book lovers that are not books. After all, we do more than read. Sometimes.
They'll shower you with hugs and kisses when you give them one of these bookish gifts–after they finish reading that one chapter, that is. This post contains affiliate links which means if you click and purchase via my links, I'll earn a tiny percentage to help me towards my book habit.
Confess, did you ever play librarian when you were a kid? My sister and I did with our tiny book collection but we never got our hands on that date stamp! Now, you can lend out your books and make sure they're returned by the due date with the Check Me Out Library Kit.  Will you fine those late returns or go easy on your friends?
Remember card catalogues? While I hated flipping through those heavy drawers to find books for my research papers, I miss the look and feel of them. This Crafty Catalogue Storage Chest would look good in my office or in my bedroom. Think of all the paper clips and sticky notes you could store in them! I think my jewelry would be very cozy in the chest.
What's better than wearing your book love? The Novel Tee Sweatshirt in Elizabeth will keep you warm as fall approaches while telling everyone you meet that you're a Jane Austen fan.
This brass bookmark has a vintage feel with its black and white image of a girl reading. It comes in a pack of four, perfect for the promiscuous reader.
Love your paper as much as your e-books? Show off your love of low tech with this high tech composition book inspired Kindle Fire HD case from Verson Trends. (Available for Kindle Fire and iPad too.)
Want a more vintage feel for your hi-tech e-reader or tablet? The Verso Prologue will make your device look like a book straight off the library shelf at Hogwarts. Available for Kindle & Kindle Paperwhite; Tablets like Galaxy Tab, iPad, and Motorola Xoom; and Kindle Fire HD 8.9″.
Pick up one of these book shaped cheese board set for your next book club meeting. Maybe you can use it to serve some French cheese while you discuss  The Whole Fromage by Kathe Lison. (A great book!)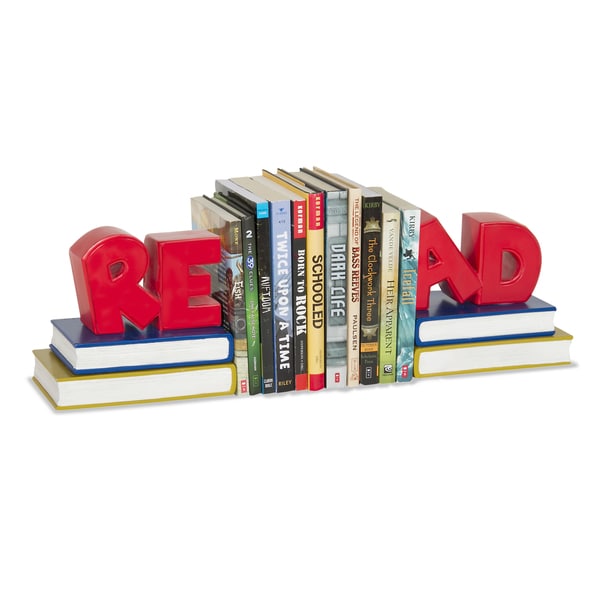 Not that you'll need a reminder, but these Read Bookends will let others know what your favorite thing to do is. I'd add these to my bookshelf, but my shelves are overstuffed with books.
Is it too much to want a duvet cover that look like notebook paper? The Free Verse Reveries Duvet cover comes blank so you can personalize it with sweet dreams.
Thank you notes and letters will be more fun to write with the Long Overdue Note Card Set. The faux wood cardboard box will be perfect to hold trinkets after you've used up all the cards.
Do you have a book lover that would want one of these gifts?